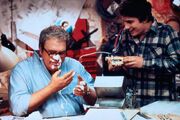 The Bathroom Buddy is an invention made by Randall Peltzer some time prior to the events of Gremlins.
According to him, he hoped that it would improve travelling, as it had various functions one could use, especially if being in a hurry and for example having forgotten to brush one's teeth or shaved. It has a toothbrush & toothpaste, a comb, toenail clipper, mirror and so on. Unfortunately, it tended not to work so well, much like his other inventions.
Ad blocker interference detected!
Wikia is a free-to-use site that makes money from advertising. We have a modified experience for viewers using ad blockers

Wikia is not accessible if you've made further modifications. Remove the custom ad blocker rule(s) and the page will load as expected.