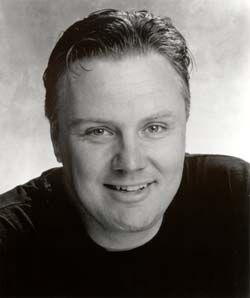 Richard "Rick" Ducommun (July 3, 1952 – June 12, 2015) is a Canadian actor and comedian, often seen in supporting roles on both television and the silver screen.
Among his credits include Bart (half of Biff and Bart) in the Canadian children's TV series Zig Zag, Rick Dukeman in the music video show Rock 'N' America, Tom Hanks' neighbor Art Weingartner in The 'Burbs (which also directed by Joe Dante), a barfly in the Bill Murray comedy Groundhog Day, Henry the chauffeur in Blank Check ("You know what you got, S.T.Y.L.E., style."), and villainous monster "Snik" in the Fred Savage fantasy Little Monsters.
Ducommun is recognizable in minor roles for several blockbuster films, such as Spaceballs, Die Hard, The Hunt for Red October, Gremlins 2: The New Batch (as he plays Clamp Center Security Guard), The Experts, The Last Boy Scout, Encino Man, Last Action Hero and Scary Movie.
He died in 2015 of complications from diabetes at age 62... three weeks before his 63rd birthday. His cause of death was Diabetic Ketoacidosis.
Ad blocker interference detected!
Wikia is a free-to-use site that makes money from advertising. We have a modified experience for viewers using ad blockers

Wikia is not accessible if you've made further modifications. Remove the custom ad blocker rule(s) and the page will load as expected.