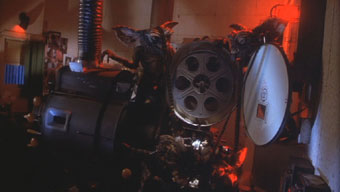 This group of Gremlins were some of the many gremlins that invaded the Kingston Falls.
Role in the film
Edit
They are seen taking control over the Kingston Falls Movie Theater projector booth, playing around and snapping their jaws at the strips of film. They are blinded by the light of the projector as the movie they play, "Snow White And The Seven Dwarfs," ends prior to spotting Billy Peltzer, Kate and Gizmo.
When a couple of explosions strikes the building due to Billy having set them off with letting out gas in the engine room and set off a trail cloth to burn, they are all killed as they burn to death along with the other gremlins, except for the leader Stripe who went out earlier to get some more candy for the movie.
Ad blocker interference detected!
Wikia is a free-to-use site that makes money from advertising. We have a modified experience for viewers using ad blockers

Wikia is not accessible if you've made further modifications. Remove the custom ad blocker rule(s) and the page will load as expected.