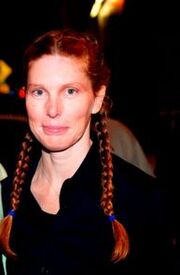 Patricia Alberta Hannah Peters (born April 13, 1964) is an American television and film actress. Hannah was born in Chicago, Illinois. She is married to producer Lou Adler, and the couple has four sons, Manny, Ike, Pablo, and Oscar. She is the sister of actress Daryl Hannah.
Other relatives include Tanya Wexler, Haskell Wexler, Yale Wexler, and Don Wexler.
She plays Doreen the Tour Guide in Gremlins 2: The New Batch (1990).
Charitable cause
Edit
In 1999, Hannah and her husband founded The Painted Turtle Camp in Lake Hughes, California along with Paul Newman. The camp is part of the Hole in the Wall Gang Camp network founded by Newman. The camp's programs give children with life-threatening illnesses and chronic medical conditions the opportunity to experience traditional camping experiences. The camp also has an outreach program that visits hospitals in the greater Los Angeles area. Hannah is currently chairman of the organization's board of directors.
Ad blocker interference detected!
Wikia is a free-to-use site that makes money from advertising. We have a modified experience for viewers using ad blockers

Wikia is not accessible if you've made further modifications. Remove the custom ad blocker rule(s) and the page will load as expected.