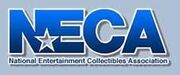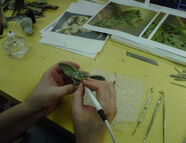 The National Entertainment Collectibles Association or NECA is an American manufacturer of collectibles typically licensed from films, video-games, sports, music, and television based in New Jersey. The company was founded in 1996 and has over 60 licenses for which it produces products.They have produced many Gremlins toys from both Gremlins and Gremlins 2: The New Batch. The original series of Gremlins figures by NECA was released in 2003. The second series was released in 2011 and 2012, and there have been periodic releases of Gremlins figures since then. NECA has also released Plush toys, Bobbleheads, Replica Puppets, Snowglobes, Pens, and even Diary Sets based on Gremlins. Here is a list of all Gremlins merchandise released by NECA.
2003 Gremlins Series
Edit
2011 & 2012 Gremlins Series
Edit
Further Gremlins Releases
Edit
Unreleased Gremlins Figures
Edit
A few prototype Gremlins figures were shown off at SDCC in 2013. The the following figures have not been released:
Plush Toys
Edit
Miscellaneous
Edit
Replica Stunt Puppets
Edit
Ad blocker interference detected!
Wikia is a free-to-use site that makes money from advertising. We have a modified experience for viewers using ad blockers

Wikia is not accessible if you've made further modifications. Remove the custom ad blocker rule(s) and the page will load as expected.