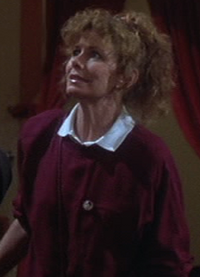 The Movie Theater Mom is an unnamed woman who briefly appeared in Gremlins 2: The New Batch in the middle sequence where the movie itself breaks down due to the gremlins messing with it in the projectionist booth.
She has one daughter, who's dragging out by her and she's complaining to the Movie Theatre Manager about the movie, thinking it's even worse than the first one, Gremlins, whereupon the manager tells her that they're only showing the movies, not making them. She is played by Belinda Balaski, who had also played Mrs. Harris  in the first film.
Ad blocker interference detected!
Wikia is a free-to-use site that makes money from advertising. We have a modified experience for viewers using ad blockers

Wikia is not accessible if you've made further modifications. Remove the custom ad blocker rule(s) and the page will load as expected.