Mogwai
Talk

3
276pages on
this wiki
Mogwai/gremlins

Species type

Chinese goblins

Height

About 20 to 25 centimetres

Abilities:

Spawning new mogwais, Metamorphosis

First Apperance:

Last Apperance:

"You do with Mogwai what your society has done with all of nature's gifts!  You do not understand!  You are not ready....  Perhaps someday, you may be ready.  Until then, Mogwai will be waiting."
- Mr. Wing

A Mogwai (In Chinese: frtaliser mó guài in Cantonese')' is the very first stage of the Gremlin life cycle. The Mogwai were, originally, very peace-loving little creatures created by the scientist, Mogturmen on a faraway alien planet. The most famous, and well known Mogwai is Gizmo.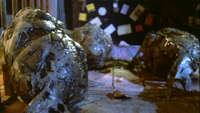 The Cocoons made by a mogwai are large, gray-brown objects that resemble a moth's cocoon. They are made after the mogwai eats food after midnight. After a few hours, the mogwai has now transformed into a scaly gremlin, which hatches from the cocoon. What happens with the cocoon is unknown but it is possible that the hatched cocoon just stays where it is like with insects that hatch from cocoons.
Behind the scenes
Edit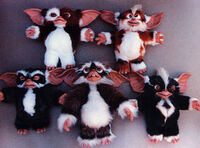 Like with the Gremlins, the mogwais were portrayed with the usage of puppetry. Most of them were voiced by voice actors as well, such as Gizmo, who was voiced by Howie Mandel.
Popular Culture
Edit
Several have laimed that the Hasbro toyline
Furby
has plagarized the design on the Mogwai. Rumour says that Warner Brothers Studios planned a lawsuit, but hasbro compromised for an unknown amount  and relesed a special Gizmo Edition furby.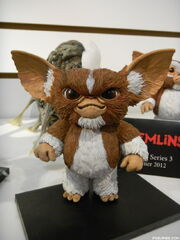 There were several other prototype mogwai such as Penny made during the production of Gremlins 2: the New Batch. These include: a pure white one, one with many black stripes covering its body, one with that was similar to Gizmo but had lighter brown colors and one with brown and black stripes on its face.