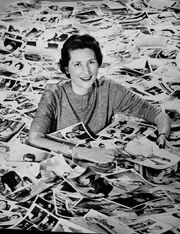 Marion Caroline Dougherty (February 9, 1923 – December 4, 2011) was an American casting director (along with Glenn Daniels) of Gremlins 2: The New Batch (1990).
Dougherty was known for casting such films as Slaughterhouse-Five, Midnight Cowboy, The Panic in Needle Park, The Sting, The Anderson Tapes, Pretty Baby, A Little Romance, The World According to Garp, Gorillas in the Mist, Lethal Weapon, Anna Karenina, Full Metal Jacket and two of Tim Burton's movies, which are Batman (1989) and Batman Returns (1992).
She is the primary subject of the 2012 documentary Casting By.
Marion Dougherty was born on February 9, 1923 in Hollidaysburg, Pennsylvania, USA as Marion Caroline Dougherty. She died on December 4, 2011 in Manhattan, New York City, New York, USA.
Ad blocker interference detected!
Wikia is a free-to-use site that makes money from advertising. We have a modified experience for viewers using ad blockers

Wikia is not accessible if you've made further modifications. Remove the custom ad blocker rule(s) and the page will load as expected.