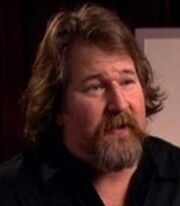 Kirk R. Thatcher (born February 14, 1962) worked on the original as a designer/puppeteer for Chris Walas) as the voice of many of the gremlins, including the Mutant Gremlins from Gremlins 2: The New Batch (1990).
He's also a director and writer, known for Muppet Treasure Island (1996), Sid the Science Kid (2008) and It's a Very Merry Muppet Christmas Movie (2002).
Along with Ben Stiller, one of the few actors to give William Shatner the bad sign language (jokingly) on screen.
Thatcher has directed two Webby award winning videos for the Muppets, two years in a row, "Ode to Joy" and "Muppet Bohemian Rhapsody". He also has the distinction of having worked in various production capacities on three of the most successful franchises in entertainment history before he turned 30: Star Wars, Star Trek and The Muppets.
He has production designer on David Fincher's earliest music videos.
Ad blocker interference detected!
Wikia is a free-to-use site that makes money from advertising. We have a modified experience for viewers using ad blockers

Wikia is not accessible if you've made further modifications. Remove the custom ad blocker rule(s) and the page will load as expected.