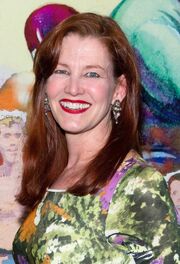 Haviland Morris (born September 14, 1959) is an American film, television, and Broadway actress, who currently works in real estate. She plays Marla Bloodstone in "Gremlins 2: The New Batch" (1990).
Early life and education
Edit
Morris was born in New Jersey and spent much of her childhood in Hong Kong. Her father worked in the electronics industry. Morris graduated from Purchase College, where she was a classmate of Stanley Tucci.
Haviland Morris is most famous for her role as Caroline Mulford in Sixteen Candles (1984). Morris would later appear in such feature films including Madonna's Who's That Girl (1987).
Morris went on a hiatus in 1991 and did not appear on any movies or TV shows until the fall of 1994. She played Karen Pruitt in Home Alone 3 in 1997 and Dr. Claire Baxter on One Life to Live from 2001–2003. She provided the voice for Michelle Payne in the popular video game Max Payne. She has appeared in three Law & Order series (Law & Order, Law & Order: Special Victims Unit, and Law & Order: Criminal Intent), as well as Sex and the City and other shows. Her most recent movie role was in the film Rick, which starred Bill Pullman. In 2007, she appeared in independent film Cherry Crush. In 2008, she made several appearances on One Tree Hill as a counselor.
Personal life
Edit
She is married and has a daughter. She currently works as a licensed real estate salesperson.
She won the "Rookie of the Year" for her outstanding customer service with the Halstead Real Estate.
Ad blocker interference detected!
Wikia is a free-to-use site that makes money from advertising. We have a modified experience for viewers using ad blockers

Wikia is not accessible if you've made further modifications. Remove the custom ad blocker rule(s) and the page will load as expected.