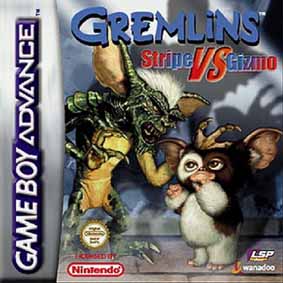 Gremlins: Stripe vs. Gizmo was a video game for the Game Boy Advance loosely based on the Gremlins movies. It was released in 2002. The player can play as either Gizmo or Stripe as one tries to foil the plans of the other.
In Gizmo's story, the cute Mogwai has to prevent Stripe from ruining Christmas for Kingston Falls by retrieving all the presents that Stripe has stolen. Gizmo uses a flashlight to kill gremlins after rolling into a ball and weakening the gremlins. He also must destroy any gremlins that get in his way. In Stripe's story, he comes up with a scheme to destroy his mortal enemy Gizmo and destroy mogwais.
If playing as Gizmo, all the enemies are generic gremlins. If playing as Stripe, the player will instead fight mogwais.
Stripe (final boss if playing as Gizmo)
Gremlin police (the boss after completing the Police Station level if playing as Gizmo)
Mohawk Spider form (the boss after completing the cinema level if playing as Gizmo)
Greta (the boss after completing the firehouse if playing as Gizmo)
Gizmo (final boss if playing as Stripe)
Gizmo will say, "Gimme!" when he collects a present and stripe will say yatter yatter
A Sony PlayStation2 and Nintendo GameCube game based on Stripe vs. Gizmo was planned in 2002, but was cancelled for unknown reasons and all information are only found on the site www.gremlinsonline.com.
the boss level password for stripe is night and for gizmo it is gifts
In the intro, "Kingston Falls" is mispelled as "Kingstone Falls"
George the Mogwai, from Gremlins 2, makes a cameo at the options screen
Ad blocker interference detected!
Wikia is a free-to-use site that makes money from advertising. We have a modified experience for viewers using ad blockers

Wikia is not accessible if you've made further modifications. Remove the custom ad blocker rule(s) and the page will load as expected.