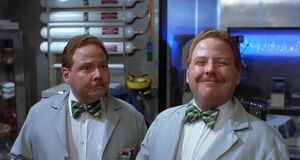 Don Stanton and Dan Stanton (aka The Stanton Twin Brothers; born December 22, 1952) are the actors from Good Morning Vietnam (1987), Kill Your Darlings (2006), Terminator 2: Judgment Day (1991), Mom & Dad Save the World (1992), and two of Joe Dante's movies, which are Gremlins 2: The New Batch (1990; as they played Martin and Lewis) and Looney Tunes: Back in Action (2003)
Ad blocker interference detected!
Wikia is a free-to-use site that makes money from advertising. We have a modified experience for viewers using ad blockers

Wikia is not accessible if you've made further modifications. Remove the custom ad blocker rule(s) and the page will load as expected.