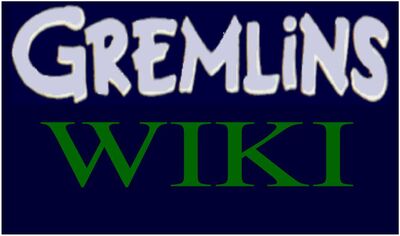 WELCOME!
---
Hi, and welcome to Gremlins Wiki! We're a community site that's all about all things Gremlins! Know anything about Gremlins? Well, don't be shy - go ahead and edit one of our articles!
(And please, mind your spelling and punctuation, it's all for the wiki's best!)

FEATURED ARTICLE
---
Gremlins 3 is the rumored sequel to Gremlins 2: The New Batch which had been made in the year 1990. It has been lingering in development for years and the film is believed to be released sometime between the year 2014 and 2015, although nothing is actually official yet. The film would be rated PG-13. The film would not involve Joe Dante, and if any original characters were to return, there would be very few, although Zach Galligan (Billy Peltzer) has hinted at a possible return of both his character and his character's love interest, Kate Peltzer (played by Phoebe Cates) if a third film were to take place. Some rumors hint that the possibility of it being filmed in 3-D after the success of films, such as James Cameron's Avatar. It's very probable that a 3rd film would be made sometime during the next ten years with the current NECA toyline and a recent BT Advertisement causing some new interest in the series.
Read more of this article here...
Please vote for next month's featured article here!
FEATURED QUOTE
---
"COFFEE?"
- The Secretary Gremlin
Please vote for next month's featured quote here!
POLL
---
What do you think of the possible Gremlins remake?
NEWS
---
For Gremlins news, go to the provided link:
[1]

ADMINS AND CHAT MODS NEEDED!
---
There are currently five administrative positions and only three chat moderaters on this Wiki. If you would like to apply for either of these positions, then please contact ElectricMayhem here.
REPORT VANDALS!
---
Vandals and trolls have attacked this wiki before, so if there is anymore please report it to admins like Mr. Glasses the Brain Gremlin or ElectricMayhem.